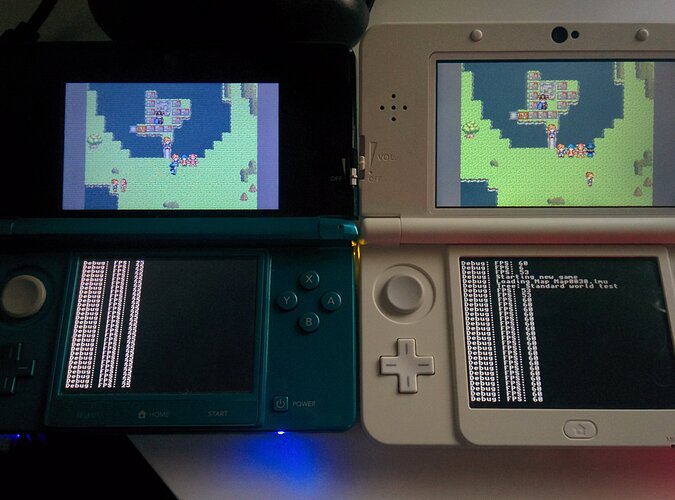 [/spoiler]
[color=#00b300]
Introduction
[/color]
Hello everybody, i recently started working on a port for 3DS of EasyRPG, a player for games wrote with RPG Maker 2000/2003.
At the moment the interpreter is in an early stage of development but runs quite smooth on both O3DS and N3DS.
BGM Audio is supported only in .wav format and sounds are available only in .wav/.ogg format.
[color=#00b300]Can i help you working on this?[/color]
Developers

: If you have C/C++ knowledges you can take a look to the issues in my repository and try to work on them ( https://github.com/Rinnegatamante/easyrpg-player-3ds/issues ). If you need libraries already compiled (since it has a lot of dependencies) just send me a PM and i'll give you prebuilded libs.

Testers

: I also need some betatesters to test modifications i make to the interpreter constantly. If you want to test it, you can find a download at the end of this post with informations about what i currently need to be tested.
[color=#00b300]Can i play "INSERT NAME HERE" game with this?[/color]
As i said before, this is in an early stage of development and the link you can find at the end of his topic IS NOT FOR GAMING PURPOSES. You'll not receive any kind of support by me trying to fix errors to play a game you want to play.
[color=#00b300]Test Build[/color]
What i currently need to be tested is the sound engine i'm writing and the svchax execution, so i need to know:
Your firmware and console (O3DS/N3DS)
Debug console what says if a crash/freeze occurs (take in mind that the interpreter is slow to load stuffs so just wait a bit before concluding it's a freeze).
If you reach the main menu, i need to know if the sounds are playing fine.
Since this build uses svchax, i need to know how many tries you made to start it (since svchax can fail and you'll have a system freeze).
Download Test Build (with old 3dsx): http://rinnegatamante.it/easyrpg_player.rar
Updated 3dsx file: http://gbatemp.net/attachments/easyrpg-player-rar.44166/
GitHub Repository: https://github.com/Rinnegatamante/easyrpg-player-3ds