So, again, I'm proposing styles. I could just do the things freely, but since I'm… 95,32% sure that I will NOT do all of them by myself… (hurray! at least I'm over 4% of confidence!)
So, here it is. Proposing face style!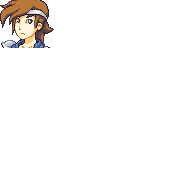 Hehe, I just did the Alex/Odin (Pfff yiah Odin ahaha).
So, that's all folks,
Orochii Zouveleki
PD.: I'm going to try and do some more. Or maybe even get some… "templates"… or something? Frontal, 3/4 and side ones. And one facing straight, other one lower, and other one with an upper sight (?).
Edit: Op op op… almost forgot! The face from before has a little "extra bit", just in case there were some need for it to be "complete" (well, it's a close-up anyway so it's not really complete ahaha). But the face is done to match up the 48x48 original size.